At Hammerhead Aquatics we have developed our own swim program, covering from infants to adults, special needs, adaptive aquatics and aquatic therapy. Coach John Grzeszczak has over 45 years of teaching experience, along with a hand picked staff who are specially trained in the Hammerhead way!
Our program starts with small goals for each level, in a positive nurturing environment helping each swimmer get to their full potential as a swimmer. We work with private and small groups, with a program that is a proven method, thru years of experience.
Each level's goals are clearly stated, and must be achieved to progress to the next level. We offer year round classes and instruction, and soon will have the only indoor 50 meter facility in South Florida, we will be weather and sun proof.
We look forward to helping your swimmer and your family achieve a water safe environment and start them on a lifelong journey of the greatest sport in the world, Swimming!
While, no program can guarantee drown proofing of swimmers, we will give your swimmer every skill necessary at each level to enjoy water related activities.
We offer classes for infants, young children, special needs, adults, competitive swimming thru USA Swimming, and United States Masters swimming team for adults. Lifeguard training, AED, First Aid, and CPR courses are also available.
Come swim with us.
Thank you,
Coach John Grzeszczak and the Hammerhead Staff and family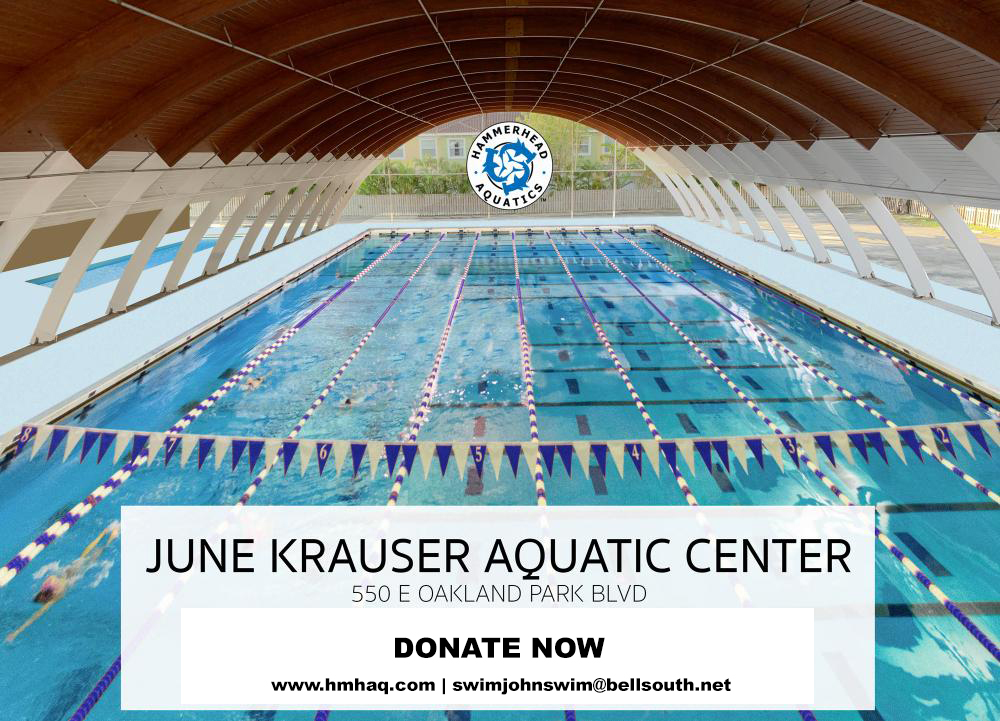 In order to meet the needs of the South Florida swimming community for a covered 50 meter pool and a fitness and therapy destination, Hammerhead Aquatics is undertaking the creation of the June Krauser Aquatic Center, an indoor 50 meter swimming pool and therapy pool. With an indoor training area, lockers, small café, food prep, kitchen facility, event space and outdoor patio, the envisioned June Krauser Aquatic Center will create a destination like no other in South Florida in June's long time home of Wilton Manors.
DONATE!

Sponsorship Opportunities are now here
We have many different ways you can help with the construction of the June Krauser Aquatic Center! From a large sponsorship, to a memorial brick on the Big J Walkway, or even any amount you would like to help with would be greatly appreciated! Donate today!
1) CLICK HERE and scroll to the bottom of the page to donate any amount of money to help us move forward with the center
2) CLICK HERE to donate memorial bricks to be placed in the "Big J Walkway" to the building